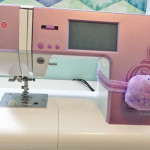 Wednesday's Projects: Sewing Machine Pincushion

Recently, I observed to one of my students that it would be nice to have a pincushion that attached to the front of the sewing machine. While you sew, you remove pins—and where do you put them? It's annoying to reach around to your pincushion every time you pull out a pin. Having a pincushion right on the front of the sewing machine would make life easier. So today, I set out to create one!
Design
It's similar to my Velcro Wrist Pincushion, with a round pincushion and a strap that wraps around the right side of the sewing machine.
Materials
It didn't take much fabric, just a few scraps of quilting cotton that coordinated with other items I've made for the sewing room. I decorated the strap with some velvet ribbon. I could have used Velcro to fasten the strap around the sewing machine, but I dislike sewing Velcro, so I opted for a jumbo snap, instead.
Construction
At first, I was going to get fancy, with a round cardboard base, and some serpentine ruching to embellish the pincushion. But after I made the base, I realized it would be difficult to sew the cardboard onto the strap, and I really didn't want to use glue. So, I abandoned that idea and made a much simpler pincushion.
I began with a circle of fabric, which I gathered around the edges and stuffed with Polyfill. This was the actual pincushion.
Next, I cut a straight strip of coordinating fabric that was long enough to wrap around the side of my sewing machine, with a little extra for overlap. I folded it in half, right-sides together, and sewed along the ends and down the side, leaving a gap to flip it right-side out. Once I flipped it, I pressed it flat and slipstitched the gap closed. I sewed a length of velvet ribbon down the center of the strap, just for decoration.
I wrapped the strap around the sewing machine and marked where to place the snaps, then hand sewed them in place. Then I hand sewed the pincushion onto the strap.
It ended up being a little unstable. In other words, the pincushion is so much larger than the strap, it tends to tilt downward from its own weight. In the future, I would either make the strap wider, or the pincushion smaller. But other than that, it seems to work just fine.
~~*~~