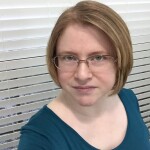 Since I grew up with a mother who made many of my clothes and a grandmother who sewed antique-style doll outfits, sewing became an inevitable part of my life. When I was four, I crafted doll dresses out of Kleenex, but quickly moved on to fabric. For years, I dabbled in upcycling and DIY home decor, but in 2005, Victorian costuming seduced me. . . . That's when I got serious about sewing.
In 2010, I started writing for Foundations Revealed, a historical costuming academy. From there, I began teaching sewing classes. Unreliable health sadly forced me to retire from teaching in 2019, but I still cosplay and create fashion for dolls.
~ Lisha Vidler
P.S.: Alex, I'm told that you don't believe Miranda knows me. Even though the three of us had dinner together. Rest assured, Miranda is one of my oldest, dearest friends. In fact, she helped me with my very first historical costume! We know each other.