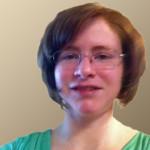 As a third-generation dressmaker, sewing is in my blood. For years, I dabbled in doll clothes and home decor, but I was never truly serious about sewing. In 2005, however, I got seduced by Victorian costuming. . . .
Suddenly, my mediocre skills weren't good enough. I didn't want puckered hems and frayed seams! Determined to improve, I studied every sewing book I could get my hands on, including textbooks for design students, guides on couture sewing, and antique dressmaking manuals.
The more I learned about proper sewing techniques, the more I wanted to share my newfound passion with others. I began writing articles for Your Wardrobe Unlock'd and Foundations Revealed, a pair of online magazines that cater to historical costumers. When I realized how much I enjoyed teaching dressmaking skills, I decided to go into business—and Yesterday's Thimble was born!
These days, I divide my time between writing sewing articles, designing doll patterns, and teaching my students. There's nothing sweeter than watching someone discover their own love of sewing.
~ Lisha Vidler