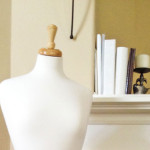 Monday's Mish-Mash: Meet Gladys
Life is change, or so the saying goes. Sometimes we're resistant to change because we're stubborn, or because we're set in our ways and are afraid something new will upset the balance of things. But every so often, something new comes along that's good—something that's better than the old.
With that in mind, I'd like you to meet a new member of the family: Gladys. Who is Gladys, you ask? She is my newest acquisition, a bona-fide dress form!
Until recently, I've been content with my homemade dress form, which I created myself using a floor lamp and a pillow. Sound bizarre? It was really quite clever. I removed the lamp shade and tied a squishy pillow to the top of the lamp. Since it was a bit shapeless, I wrapped a lingerie corset around it and laced the corset to my measurements. Voila! Instant dress form. The trouble was, it had no shoulders. I had to lash a padded hanger to the light fixture, just so I could put clothes on the form. As you can imagine, this looked rather awkward.
It worked, but every photo I took of a finished garment showed a brass fixture and an empty light socket. For a long time, I was so happy to have a dress form, I didn't care. But as I raised my sewing to a more professional level, I started to feel ashamed of my poor DIY "masterpiece."
It had some problems, too. Because it was a lamp, intended to stand in the corner without any weight on it, it didn't care much for the heavy Victorian skirts I put on it. Even with a normal dress, the slightest nudge would topple it over.
I wanted a real dress form, but the professional kind they use on Project Runway are quite expensive. You can buy adjustable dress forms at most fabric stores, but they are ugly, cheap, awkward to use, and usually can't be pinned into. I figured I was stuck with my homemade version, at least for now.
Then, while browsing Amazon a few days ago, I stumbled across a dress form that met most of my requirements: non-adjustable, professional-looking, and pinnable. The reviews were all positive and the price was extremely affordable, so I took a deep breath and bought it.
It arrived quickly and was easily assembled. One of the features I like best is the fact that the dress form is height-adjustable, so I can keep it at my height for wearing my own garments, but if one of my students needs to use it, they can raise it up to their height.
Following the time-honored tradition, I named my dress form: Gladys.
I could wish that Gladys had a cherry wood base, instead of light maple, so she would go with our home décor better. But that's really her only flaw. She'll look lovely in my sewing room!
Now, I just need to find room for her. . . .