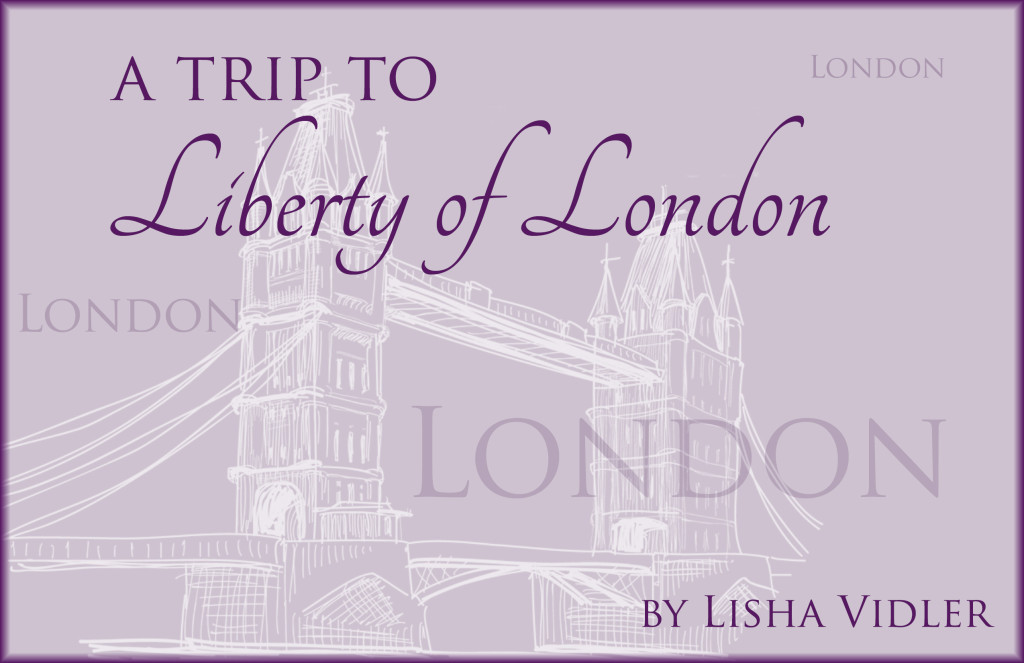 (Note: Yesterday's Thimble is not affiliated with Liberty.)
In London, there exists a magical place known as Liberty. Perhaps you've heard of their high-end fabrics?
Here in the US, you can order Liberty of London fabrics from a few different places. Their cotton lawns are extremely popular—and expensive. A single yard can cost $36 and up! (For comparison, many other brands of cotton lawn sell for $10 or less.) I never understood how they could get away with such outrageous pricing. Then again, I'd never seen any of their fabrics in person.
For our 15th wedding anniversary, my husband took me to London. He also gave me a gift card to Liberty. So, off we go!
While well-known for their fabrics, Liberty is actually a multi-story department store. They sell purses, scarves, perfume, clothing, and all kinds of luxury items. If you aren't in the mood for sewing, you can even buy blouses made from their popular fabrics.
What impressed me the most was the relaxed, old-fashioned feel to the place. No harsh, glaring florescent lights overhead. No ugly linoleum floors. No metal shelves crammed with too many bolts of fabric. Instead, there's windows that provide plenty of natural light, and gleaming wood shelves, which lull you into a state of ease. Truly, this is how fabric shopping should be!
Haberdashery takes up the entire fourth floor. A row of shelves, neatly stacked with fabric, lured me in. Most were cotton lawns in bright floral prints, but there were also some linens and silks. (I found myself coveting a gorgeous lightweight silk jacquard, but at roughly $100/yard, it was beyond my meager budget.)
At first, I found it hard to believe that any of these fabrics were actually cotton lawn. They had a slight sheen to them, almost like sateen. Fighting the urge to peek guiltily over my shoulder, I stroked one of the bolts. Incredibly soft and smooth, it wasn't sateen, but the highest quality lawn I've ever had the privilege of touching.
While wandering in a daze, the first item I decided to buy was a pair of embroidery scissors, which came in a protective fabric sleeve. Once I returned home, I held a drawing at my local sewing guild and gave the scissors to the winner.
After making a full circuit of the main area, I found my way to the adjacent room. On the left, I found shelves holding solid lawns. The color selection was limited, but they were vibrantly hued, and I never would've believed you could make such a thin fabric feel so rich! At this point, I finally understood and respected the high price of these fabrics.
Farther in, there was a display of patterns by popular indy pattern-makers. A table in the center of the room offered instructional books on sewing, mostly for intermediate and advanced dressmakers. There were a few chairs along the back wall, and that's where my husband parked himself, anticipating a long rest while I browsed the pretties.
Off to the right, the room transitioned from sewing to needle-art, with baskets and shelves displaying a rainbow of yarn. Most contained wool, which I'm allergic to, but I managed to find a selection of 100% cotton skeins, quite luxe, and thin enough to use for crocheting doll scarves and other accessories. I grabbed one in a dusty aqua color.
Knowing I needed to make a big decision, I wandered back to the fabrics. Most of the prints weren't small enough to work for the doll clothes I had in mind, but eventually I found one with tiny navy blue flowers.
That settled, I turned my attention back to the solid colors. They had a fine white lawn, which would've made a lovely shift or chemise to go under a historical costume, but it was a trifle too transparent for my taste. After much indecision, I settled on two colors: apple green and navy.
The navy, I thought I could use when I remake the bodice of my Wishing gown replica, from The Phantom of the Opera. It seems poetically fitting that part of the fabric should come from London, where the show originated. If that doesn't work out, I can always pair it with the navy floral print.
I don't have any specific plans for the green fabric, but it was the only other color I thought I could use.
My decision made, I took the bolts to the cutting table. A friendly clerk cut the yardage: one meter each of the floral and green fabrics, and one and a half meters of the navy. (England uses the metric system for measuring.) I was impressed with the lady's cutting skills! It's rare to find someone who actually knows how to cut yardage in the US.
Once my fabrics were cut, she carefully wrapped them in tissue and sealed it with a logo sticker.
Then, she slipped the bundle into a purple gift bag, along with the yarn and embroidery scissors. No flimsy plastic bags here—buying fabric at Liberty is like treating yourself to a special gift.
My first visit to Liberty was eye-opening. And yes, I'm already making plans for my next trip. . . .
~~*~~
Looking for more? Try our Articles. You might also enjoy our sewing Tutorials and Diaries.