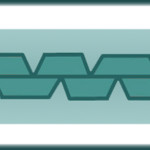 Recently, I was asked to contribute to the teacher's blog at Take Lessons. I was happy to oblige and wrote a piece filled with suggestions to help you take your sewing skills up a notch. It includes advice on seam finishing, pressing as you sew, and using the right needle, along with several other tips you may find helpful, such as directional stitching, and even a couture method for eliminating the bulk of backstitching!
If you're ready to take your sewing to the next level, head on over and take a look:
10 Tips to Improve Your Sewing
Enjoy!