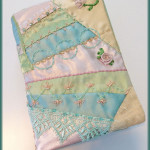 This brand-new, step-by-step tutorial combines the art of crazy-quilting with a simple book cover, resulting in a gorgeous one-of-a-kind project!
In part one, you'll learn how to draft a custom pattern to fit any book, make a mockup to ensure a perfect fit, and plan your crazy-quilt design. In part two, you'll create a beautiful crazy-quilted panel and embellish it with all manner of embroidery and beadwork. Then you'll assemble all the layers together. In the end, you'll have a custom piece that's sure to be a conversation-starter!
Crazy-Quilted Book Cover, Part I
Crazy-Quilted Book Cover, Part II
Enjoy!