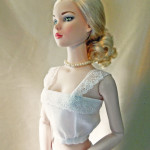 Every year, Your Wardrobe Unlock'd holds a costume competition. Costumers from around the world send in photos of the historical costumes they've made, and readers vote for their favorites. The winner gets a decent prize, along with public recognition of their skills.
I've entered a couple of times, but last year, life intervened and I didn't have the chance to participate. This year, however, I found time to make an entry.
One of the themes for this year's competition was "Early World War I: 1914-1915." I'd never done anything from that era before, but I thought it might be fun. So, I made a set of undergarments from 1915, including drawers, a petticoat, and a corset cover, all trimmed with antique heirloom lace. They're doll-sized, because that's my specialty.
You can read my sewing diary here: 1915 Undergarments in Miniature
And if you visit Your Wardrobe Unlock'd once the voting begins, feel free to vote for my entry!